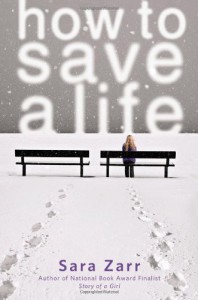 5 stars!!!
Writing a tragic experience, or the aftermath of a tragic experience, into a book's plot is a tricky business for me. It can fall into the dangers of being overly melodramatic, forced and unrealistic. Few books have touched me with the writing alone and fewer have successfully executed the inclusion of grief and loss in the story. [b:Saving Francesca|82434|Saving Francesca|Melina Marchetta|http://d.gr-assets.com/books/1327865374s/82434.jpg|18042740] is one of the effective ones. I have now found another in [b:How to Save a Life|10757806|How to Save a Life|Sara Zarr|http://d.gr-assets.com/books/1337211222s/10757806.jpg|14982110].
This is the story of two girls whose lives changed due to unforeseen events. Jill MacSweeney is a high school senior who is dealing with the loss of her dad from a fatal car accident nearly a year ago. She's having a hard time coping and she feels as though no one understands her. She manages to push away people who are concerned about her, leaving her friendless and almost always fighting with her boyfriend. Most of all, she struggles to have a loving relationship with her mom.
"The hardest thing of all is loving my mom without him to show me how. Loving, maybe, isn't the best way to put it. Obviously, I love my mom. Understanding, appreciating, showing kindness and compassion and basic friendliness toward—which, you know, are the things that express love, because otherwise it's just a word, right?—those are the challenges."
As if her strained relationship with her mom isn't enough, her mom decides to adopt a baby. This is where Mandy Kalinowski enter their lives. Mandy is a pregnant, 18-year-old girl who has decided to give up her baby for adoption, but with certain conditions, one of which is that she must live with the adopting family until she gives birth. So now, not only does Jill have to accept the fact that she'll be having a baby sibling soon, she must now also put up with Mandy, who she is extremely suspicious of.
Jill and Mandy can't be any more different from each other. Mandy was brought up in a neglected environment. Jill was from a loving and supportive family. Mandy is all about being feminine and dolling herself up to be presentable. Jill has dyed dark hair, an eyebrow piercing and wears dark clothing. Mandy comes off as ignorant at times. Jill is smart and worldly. And yet, they are so similar in the way that they want and try to say the right words and do the right things but somehow can't seem to. They also want their lives to change - for Mandy to have a better life for herself and her baby, and for Jill to finally let go and
live
.
I found myself crying a lot of times throughout this book. I can't really say that I can relate to the death of a parent or the experience of teenage pregnancy. But I'd be innocently reading and there would be a simple sentence, or a short paragraph, that creeps up to me and suddenly gut my insides. I
felt
what Jill and Mandy were feeling. The feelings of abandonment, the not knowing what it feels like to have siblings, the fear of being alone,
the need for a friend, the need for a mother
, the heart-flutter from a potential romance. And while there were tragic moments, there were bouts of happiness too. I loved the characters in this book. Everyone had an important role. I loved the writing. And most of all, I loved how it made me feel.